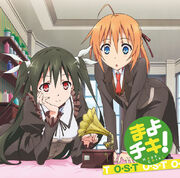 Mayo Chiki! Original Soundtrack was first released on 24 August 2011 in Japan by Key Sounds Label bearing the catalog numbers KICA-3159. The soundtrack is the 3rd album to be released, following Mayo Chiki! OP Single – Be Starters! produced by Eri Kitamura and Mayo Chiki! ED Single produced by Iguchi Yuka,Eri Kitamura & Ise Mariya. It only contains 1 CD but has a total of 39 tracks all produced by Iguchi Yuka,Eri Kitamura & Ise Mariya.
Tracklist
Edit
01     Be Starters! (TV Size)

02     Ojousama, Oyobi de Gozaimasu ka.

03     Mary-san no Hitsuji

04     Lovely

05     Kazoku no Nukumori

06     End of Earth

07     Mienai Yasashisa

08     Subaru no Kokoro no Naka
09     Yume no Hitsuji

10     Shitsuji no Shigoto

11     Mayoeru Hitsuji, Tousou

12     Wagaya no Ojousama

13     Ura・Wagaya no Ojousama

14     Ochi no nai Hanashi

15     Sakusen Kekkou!

16     Fuon…..kana?

17     Kurae! Shitsuji Knuckle

18     Date Biyori

19     Hakanaki Yume

20     Higeki kara no Jounetsu

21     Utsutenashi

22     Adult na Image

23     Yuugure ni Omou

24     Fukuzatsu na Jijou

25     Itte mo Wakatte Moraenai

26     Chicken no Otokogi

27     Toumei na Namida

28     Kienai Kizu

29     Ayashii Sasayaki

30     In'ei

31     Seikai wa?

32     Kureha no Yarikata

33     Barebare na Uso

34     Zettai Zetsumei

35     Happiness

36     Eyecatch A

37     Eyecatch B

38     Flower

39     Kimi ni Gohoushi (TV Size)